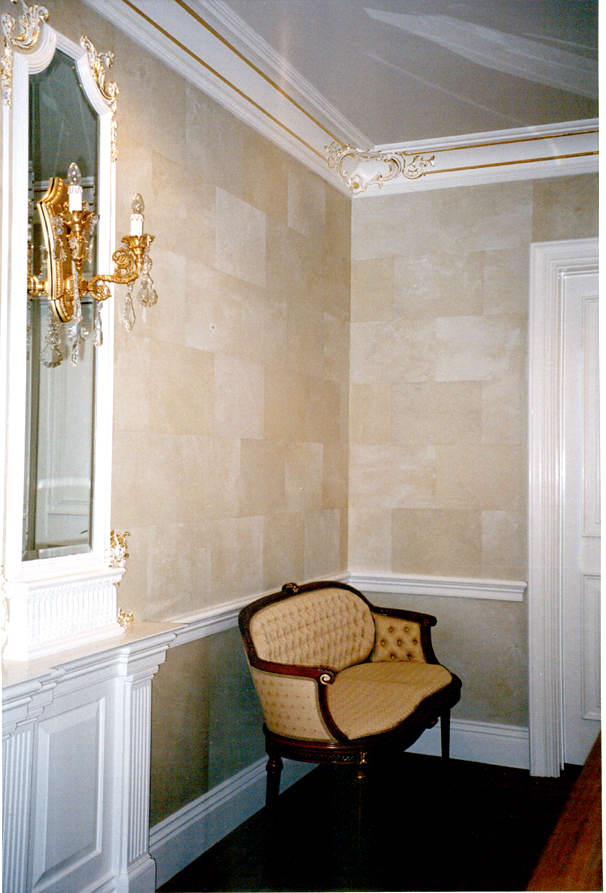 The Designs for this Maryland Home were featured on the Front Page of 'Paint Pro Magazine, and won the American Painting Contractor Award for Best Decorative Art Project of 1999.

Award Winning Hallway shows the diverse artistries of the Buon Fresco Studio.
The earth colored glazes applied to the walls of the first and second floors were 'frottaged' giving the appearance of faux Limestone. Color divides the blocks.

The beautiful detailing on the millwork was taken out of hiding by 'Tip Gilding'. Tip Gilding is an gold leaf embellishment technique achieved by applying genuine Gold Leaf to the most prominent edges of carved ornamental millwork.

Andre Kouznetsov finished the ceiling with Trompe l' Oeil architectural elements inside the existing panel boxes.

Buon Fresco enhanced the hallway columns with decorative molding and a 'Capital' headdress; finished the column surfaces with Venetian Plaster as Marble; and added Ribbons of Gold to the bases.

Victoria Bingham, Buon Fresco's expert colorist, achieved warmth with elegance as a result of the hallway's carefully selected color scheme - which flows easily into the adjoining Dining and Living Rooms.

At last the hallway now has the visual grandeur that complements its size and style.
< LEFT FROTTAGE as a finish.
LEARN HOW. The Academy of Wall Artistry teaches these and other high end, fine finishes. For more information return to the Instruction pages of this site.