"I'm going home to London and I"m going to throw away the 12 boards I made at that [faux school] in London. I will ONLY show to my clients the sample boards I made here at the Academy!"
Lazarus Xavier Cordoba, London UK
"The Trilogy Course was like opening up a Jewel Box!

Francelyn E., Puerto Rico
The Buon Fresco method is the Rolls Royce of Venetian Plaster techniques. With just my first job, I'd already had several local plaster artist (with far more experience than me) raving about my walls, and asking me how I was able to get such great results. But there was no way I was going to tell them! Since then, I've gotten other offers for jobs, without even advertising. And I'm already raising my rates. Chris Adams, San Francisco CA
Linda O�Neil on the Color Class instruction; �The class was a feast of knowledge. I would recommend this class to everyone in a very loud emphatic voice and describe it to other artists as the most useful and comprehensive color course on the planet, as well as more fun and fascinating than any other [color class] I�ve ever taken.�
"The atmosphere was most conducive to learning and the lesson material gave me the confidence to take a project and complete it." John /Architects of the Capitol
The Principal Instructor at The Academy is Victoria Bingham, the award winning founder and director of Buon Fresco, LLC. Click photo for introduction.
MOTTO EXCELLENCE IS ORIGINAL
who we are
The Academy of Wall Artistry is the instructional arm of Buon Fresco - Wall Artistry, an award winning decorative painting and mural studio. Our decorative art has earned us appearances in numerous Magazines, Newspapers, HGTV, Art Books and even The Movies. Buon Fresco has an international reputation for 'innovation' and 'excellence' in the decorative arts and its school, Buon Fresco's Academy of Wall Artistry - has a graduate body from all over the world. And Our Grads are WORKING!
The instructor
The principal instructor, Victoria Bingham, is an award winning artist and an inventor holding 2 US patents for inventions. Bingham believes very strongly in inspiration following instruction, and invention following application. Bingham's teaching style is to first give a 'truckload' of information about the task at hand and then push the students to their personal best - encouraging them to explore new arena's of artistic application.
OUR MISSION
To Raise the Standard and by that token, the Compensation in the field of Decorative Arts
The intensive method
Most classes are conducted over the course of two instruction-packed days. Through a program of Theory followed by Practical segments of non-stop-practice, The Academy is able to turn out graduates who are prepared to start work with confidence. For distant and overseas students The Academy teaches class series in consecutive sessions. Classes are kept small, to ensure ample time for individual attention.
tHE TECHNIQUES -
At The Academy we teach fine art technique - not product! Why? Because a school that spends its time teaching 20 products in 2 days is not a school - it's a store. Technique alone distinguishes top earners. Up to 4 techniques - or finishes - are instructed during each 2-day session because we believe that a mastery of less is preferable to a fleeting familiarity of more. Finally, the Buon Fresco techniques are not easy to learn and cannot be gleaned by people watching you work! They MUST be taught.
t
he classes
The Academy Intensive Courses offerings include: Exquisite Paint Glazes, Decorative Gold Leafing, Venetian Plaster Designs, Essential Color Skills, Marketing & Business and much more.
Whether you are just starting out - or are an experienced contractor seeking to expand upon your skills, the Academy's beautiful finishes and the intensive format of instruction can enable you to set your work apart and reward you with 'Top Drawer Results and associated compensation.
classroom Overview & materials
In the Gold Leafing Class, you will work with Genuine 22 and/or 23 karat Gold in both patent and loose forms. Students produce 5 Different Gilded samples to include; flat Gilding, Ribbon Gilding, Ornate Gilding,Tip Gilding and Flash Gilding. Students keep their gilded items as portfolio pieces.

In the Venetian Plaster Class, students work with the finest genuine Italian Plasters to be found. Buon Fresco has done the testing, and the students benefit from using the same plasters which turn out our attention getting results.

In The Painted Glazing Class students work with Buon Fresco's signature - Water Based - extended work time glaze ' WATER MAX' as well as a selection of Oil Based Finishes.

In the Color Class students Mix Color, Match Color and work with fabrics, wallpapers, paint and finishes in order to come to terms with 'understanding and using color' to their best advantage.

In the Business and Marketing Class students learn how to 'think outside the box'; how to apply sound business models; and learn to develop contracts and paperwork that will strengthen and protect their interests.
THE SAMPLE BOARDS -

Decorative Classes result in the production of professionally presentable boards which have won our graduates the attention of Architects, Designers, Custom Builders and distinguished clientelle.
WHY CHOOSE THE ACADEMY?
We hear from disillusioned artists ALL the time who attend expensive courses only to find themselves in a product pushing environment with little to no actual technique taught. We can assure you that if you are looking at a school promising you the completion of 10 or more sample boards while you're there, you're paying them to force feed you a warehouse of products that you will be forever buying to back up the boards.

Ask to see a portfolio. When all the schools finish talking about the size of their school rooms and the quantity of plaster they stock, the difference is still the curriculum. At the Academy we hear students repeatedly bemoan the quality of the 'training' they have received at other schools saying 'It wasn't technique , but a product presentation at cost'. Many tell us how they paid for classes but walked out before they ended.

The Academy is first and foremost a school of technique. Our students graduate with marketable, profitable skills and very often come back for more.

Compare the Buon Fresco Studio's portfolio with any other school. Our work speaks for itself.

Academy Graduates do not compete by price.

TThe Buon Fresco techniques are not easy to learn. We guarantee no one will be able to copy you by just watching you work.

OJT - We offer our graduates, On-The-Job-Training. At no charge to you - for up to 3 days, graduates may join us on a job site and hone their new skills. For more information on this program please click OJT.

Finally, our graduates enjoy discounts on Venetian Plaster & Mixol Universal Tint Sets and may contact the Buon Fresco studio for tips and advice until the cows come home, or the Lord returns, whichever comes first.
location of classes -
The Academy is located in Alexandria Virginia, just 20 minutes from the nation's capitol; a short drive to monuments, museums and attractions of Washington -as well as places of interest in Virginia and Maryland close to Dulles, and Reagan National Airports. There is a generous selection of hotels in the vicinity of the school.
For further information or to register for classes please call the studio toll free free at: 1.888. n'fresco [637-3726]
NEW FEATURED STUDENT & GRADUATE WORK PAGE
Click on the Line above to see students 'Work in progress' at the Academy of Wall Artistry. A picture is worth 1000 words,
After the first day I had mentally hired my painter and interior decorator! I knew I CAN DO THIS! The information was excellent and the pace of the class - excellent! Laura D. Bethany Beach, DE
I enjoyed the instruction so much I was whistling all the way home. Victoria is a talented artist and gifted teacher. Lilly S. Potomac, MD
Victoria is an excellent communicator ... but I especially appreciated the 'hints' for actual job site use!! Donna S. Raleigh NC
The Trilogy Class added TREMENDOUSLY to my.portfolio. Lisa P. New Orleans, LA
I definitely recommend this class to other decorative painters. Carol O. Beltsville, MD
The Business Class will help me altogether to present myself more professionally. Thank You!.. Susan G. Arnold MD
WHEN ASKED IF THEY WOULD RECOMMEND THE CLASSES OUR GRADS RESPONDED: 'Yes. In my will.' Angela
"ONLY WHEN I RETIRE!" Donna S., Raleigh NC
Venetian Plaster

Intensive I The essentials of the Buon Fresco Method for applying Italian Plasters in a classic mirror polish that has the reflective quality of glass and a natural undulation with no blade marks and never any sanding. Wax Striping is also taught in the class. Tuition $650 Materials $175**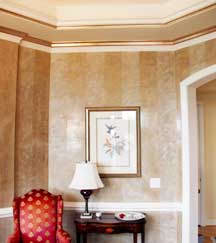 Venetian Plaster

Intensive II Creating Damask and other Stencil Designs in Plaster with Wax, Tone on Tone plaster and Multi Color Burnishable images. Tuition $500 Materials $60 [Stencils Sold Separately]

Shown Left - Waxed Damask Pattern over base of polished Venetian Plaster -

This is a sophisticated decorative treatment for high end commercial and residential environments. This finish, more than any other, has consistently won editorial coverage for the Buon Fresco studios.

Venetian Plaster III

Marbling

C

OLUMNS

Tuition $900 Materials (inc Marbling Brushes) $245

Venetian Plaster as Marble on Flat or Round Surfaces!

(Prerequisite VPI Intensive)

Painted Marble Sample Boards in Venetian Plaster Student Plastering Column

| | | |
| --- | --- | --- |
| Student Work/ Theresa Blosser, DE | Student Work/ Nikki Flam,VA | Student Work/ Flat Marble Theresa Blosser |
Intensive Trilogy - Venetian Plaster, Decorative Painting, Gold & Metal Leafing for the Interior Finisher. The 3 most essential courses for the high end finisher's portfolio. Click on the title bar to see an overview of the 3 classes which comprise the Trilogy.