For a more detailed description of a class, click its COURSE TITLE to visit that Class's individual Page.

.To see dates and times for classes visit: DATE & TIME Page

..For tuition and materials cost information visit - Tuition & Materials Page

COLOR CLASS

COLOR - The success of the job.

Can you give your client the precise color match in paint and plaster that they request?

Can you match colors so precisely as to make a switch-plate disappear? Photo Left - Buon Fresco's 'Invisible Switch Plate' Artistry.

Can you give the architect the exact color he specs in Venetian Plaster.. the designer the exact paint color of her silk swatch?

Can you play beautiful 'chords' with Color Harmonies?

"I'm seeing the WHOLE world differently!
Now I can't wait to go home and decorate my London house'."
Lazarus Xavier C. London, UK

"Knowlege is wealth! I leave here a very wealthy man. These classes were worth far more than I paid for them. Not a day went by when I wasn't learning amazing new things. Trying to learn on my own was like trying to reinvent the wheel. It was 40 years of repeating the same work, and never rising to a new level.
For anyone in this business, this IS the place to learn!" Lloyd Cutting, Vancouver British Columbia
The Color Intensive Class focuses on the following critical lessons:

*Color Chords/ Harmonies (called also color schemes)

*Precise Color Mixing. These are CRITICAL professional skills. Color, like music, cannot be artifice.

,

A decorative artist cannot work 'high end' - limited by a fan deck palette or without the ability to be able to mix color exactly.

In Art and Design Color is your sheet music. Can you read it?

YES! Like Music and Math, COLOR formulation can be learned.

Don't run your business any longer without complete color confidence!

Visit the Color Page to learn more.

(Photo Above) Switch Plate Artistry by Academy Color Class Grad - Tom Henman
The Beauty of Gold.

Used judiciously, artistically; there is just nothing like Gold. It is elegant, vibrant, timeless.

If you are a Decorative Artist, but you're still not offering GOLD,

you are missing out on an enormous income opportunity and a highly successful portfolio addition.
Tip Gilding
Flash, Ribbon & Tip Gilding
Flat Gilding
Ornate Gilding

Buon Fresco applies Gold in 90% of the residences we work in - by showing how Gold transforms a space.

Increase your business. Add Gold to your professional portfolio. Four of the Five Gilding techniques taught in the class are shown above. Tip Gilding for Molding designs, Flash & Ribbon Gilding, Flat Gilding for murals & Ceilings, & Ornate Gilding.

"I'm going home and throwing away all 12 boards from the classes I took in England. I'm only going to show the ACADEMY samples to my clients'."
Lazarus Xavier C. London, UK


VPI is the Prerequisite of all other VP courses. It forms the foundation of instruction for the advanced classes of VPII, VPIII, VPIV and VPV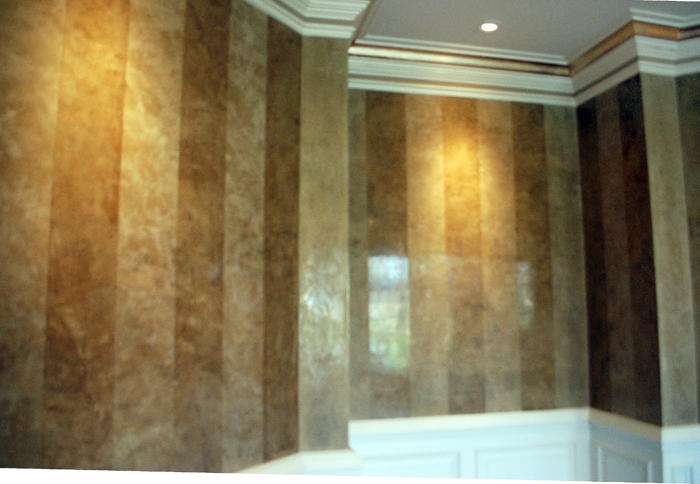 By far our most popular class, VPI lays the ground work to be able to do a natural undulating Venetian Plaster, as smooth as a mirror - right out of the gate, or with any number of stunning enhancements over the top.
The technique is not easy to learn but the student receives hands on instruction and guidance with opportunities later to work with Buon Fresco on job sites to further perfect their skills. The finish is a client pleaser and a job winner!
Yes! - In VP- I you will learn to create a Damask Striped Venetian Plaster as
in this Dining Room (above) that we did for Hockey Star Alexander Ovechkin's home.
VENETIAN PLASTER - II STENCILING in Italian Plasters


VPI is Prerequisite

Stenciling in Italian Plasters has gained Buon Fresco and our graduates more prizes and more press and

more business, than anything else in our collective portfolios. (see the grad brag page for additional proof)

'The really amazing thing in this Venetian Plaster Damask class was how very unique and distinct each student's boards were.

We all successfully created sophisticated, elegant sample boards.' Teri Crosby, Richland, WA

'I've never seen anything like that before!' Said by Client of Graduate seeing his Stencil Samples Zdeneck Ullman, NYC
for COLUMNS & WALLS

"Your Marbling technique [VP-III] is AMAZING!, I've been marbling for 20 years but have never seen anything like this, and it's SO fast and easy!" Gelu Pisalu, NJ 12/13 grad






Prerequisite of VPI

Photo Left - Student Marbling Exercises from VP-III

This 'How-to-Marble' in Venetian Plaster class covers every category of creating realistic marble. Students learn coloring, veining and drift systems to affect perfectly natural looking faux marble.

Shown Above - Students working on Marbling in Venetian Plaster.

| | |
| --- | --- |
| | Left: Examples boards of Venetian Plaster as Marble. Students will learn how to imbed a Marble face in their already mirror smooth Italian Plaster surface. Techniques are given for application on a wall or on round columns. Different Marbles are taught to communicate all the various techniques required for just about ANY Marble type. More elaborate marbles are covered in the VP-IV Advanced Marbling Class of which this is prerequisite. |

Theresa Blosser, Delaware
Nikki Flam Arlington VA
Dr. Jay Starling, VA
Iurii Kravchiki, Canada

Advanced Venetian Plaster..
There's nothing quite like it.. besides real marble. :>)



Prerequisite of VPI
and VPIII Basic Marbling

ADVANCED MARBLING IN VENETIAN PLASTER

The Venetian Plaster IV Advanced Class on Marbling in Venetian Plaster has been called 'The Rolls Royce of Faux Marble. The results are cold to the touch, mirror smooth and exquisitely detailed to achieve the Marble of your choosing. These Exotic Marbling techniques finish a surface with nuance so realistic that it amazes the people in every sphere of design. Note: The examples shown here are based on techniques taught in VP-IV though they are by no means the limit to what may be achieved in Marbling once the techniques are fully grasped.

Happy Graduates with their boards ready to show to clients.

The VP-V -


BACKSPLASH & TILE

CLASS


Add a whole new elegant element to your portfolio of offerings to architects, designers and custom home builders, effortlessly. You'll not only be adding an entire new portfolio item, you're adding a new member to your professional team. Now in addition to architects, designers, custom home builders, you can form an alliance with Kitchen Designer Stores. This finish is an ideal compliment to any new kitchen, especially when the client is not prepared for the higher prices of marble and ceramic backsplashes, in that it offers a waterproof and very real looking tile imitation. (VPI Prerequisite)

Waterproof - Beautiful - With Mirror-like Reflective Quality in any color of the Rainbow. Since Venetian Plaster Tile is easy to apply, and less costly than Ceramic Tile, the finish will sell itself to budget minded clients.

Get your business out front!

We just took some of our own advice as given in this class and added McInturff Architects & Alliance Builders to our list of professional teams.

MARKETING & BUSINESS




Tentatively scheduled for February 2016





Business Acumen. Don't leave the studio without it.





MARKET FOR SUCCESS
Learn to develop teams with architects and designers.
Learn to market on the web and other places.
Learn why photography is your best friend.
Learn how to write proposals - what to include - what not to include!
Learn how to protect yourself from the untoward clients.
Learn how to make your paperwork save your bank account!
Make your Business ALL that it can be. Even in this economy.
No materials costs & no prerequisites
To learn more Go to the M&B page for class details.
What is the difference between Decorative Painting and Faux Finishing? Decorative Paint work is the application of a paint or glaze in a decorative fashion. Faux Finishing is the application of paint, glaze plaster or any such element to specifically simulate a natural material or element of some sort, such as Marble, Fabric, Stone, Wood, Wallpaper and so on.
The Faux Finishing I Intensive course contains these 4 finishes shown above from Buon Fresco Studio Photos.
Photos From Left to Right display;
Scumble Glazing - Can be made to simulate 'Leather' or be left as a decorative wall finish.
Strie - Simulates Fabric
Frottage - Simulates Limestone and/or Marble
Damask Stripes (2 photos far right) - Simulates Wallpaper
For more information and photos please visit - The Painted Gallery and the Decorative Painting Class pages.
MARMORINO VENETIAN PLASTER -

The Academy's newest class offering is based on latent good success with our newest materials, Marmorino and Concrete Plasters made by Italian Masters in Italy.

Our new 'Decor Line' of Lime based plasters is already available, and we ALREADY won 2 contracts since launching the line 2 months ago. The first - seen here (above) is a rendition of realistic Limestone Blocks created with natural looking crevices and grout lines, from layers of Marmorino Plaster. The client got a Limestone Lobby for his building in just 7 days and at a fraction of the cost of real stone.
| | | |
| --- | --- | --- |
| | | |
| Smooth Concrete can be a 1 Coat Finish | Limestone /Concrete in Block Style | 2 - COLOR Concrete |
Imagine an Italian Plaster finish that may be achieved in just one coat? That's Lime Concrete!
Or apply it in just 3 Coats to create realistic Limestone Blocks...
...In the words of one designer, 'THAT'S a Manhattan Finish!'
Class Tuition & Materials Page
CLASS DATE & TIME PAGE
Note - On line registrations cannot accepted due to limited classe size.
All text and image copyright 1997 - 2017
Buon Fresco, LLC.
This web site, its photographs, text, names and titles are all protected by the copyright laws of the United States. The name Buon Fresco is trademarked and enjoys exclusive usage nationwide for the title of a studio and school of decorative art. Infringement of any of the aforementioned is strictly forbidden and reproduction rights or borrowing of photos or segments of text may be provided only with the express written consent of the owner of Buon Fresco, Inc.
1. 888.637.3726
Buon Fresco, Inc.
Office and Studio: Fayetteville, NY