LIST OF PUBLICATIONS
Home & Design Magazine, Editorial Nov/Dec 2006 Pages, 164 - 171, Other work shown on pages 126, 127, 130, 131

Walls & Ceilings Magazine December 2005 - Excellence in Design Awards Article

Washington Home & Design Magazine Late Fall 2005 Page 24

Washington Home & Design Magazine Summer 2005 COVER PAGE & Editorial Pages 116 -125

The Washingtonian January 2005 Photograph of Placido Domingo in front of his 'Mural Likeness'.

Paint Pro Magazine - Photo and Reference to Prize winning NSO Decorator Show House work.

The Wall Street Journal April 9, 2004

Chesapeake Home Magazine Nov/Dec 2003

Custom Home Magazine Nov/Dec 2003

Paint Pro Magazine May/June 2003 Article entitled 'Brushes and Rollers for Decorative Techniques' page 21

Chesapeake Home Magazine April 2003 Article entitled 'Venetian Plaster - The Old World Made New', Pages 28 - 31

Paint Decor Magazine Spring/Summer 2003 Article entitled 'Master Bath in Bloom'
Paint Pro Magazine Mar/April 2003 Article entitled 'Turning Walls into Masterpieces of Art'.
Washington Home & Design Magazine Fall 2002 Special Double Issue Photos Pages 52, 53, 54, 55
Washington Post Newspaper, August 15th, 2002 Article about Buon Fresco's Murals and Italian Plaster Designs appearing in Dreamworks Film, 'Head Of State' .
Paint Pro Magazine Jul/Aug 2002 Photo Page 15
Paint Pro Magazine Jan/Feb 2002 Photos Pages 14,16,25
Washington Home & Design Magazine Spring 2001 Photograph with Domingo Ceiling Mural Page 88
American Painting Contractor Jan/Feb 2000 Top Job Award Prize Pages 44,45
The Washingtonian Magazine March 1999 Photograph 'Lavandou' Restaurant Mural, page 131
LIST OF AWARDS
Best of 2005 - Excellence in Design Award - Walls & Ceilings Magazine

Elizabeth Warnock Prize for Decorative Painting Excellence 2004 National Symphony Orchestra Decorator Show House

Best Decorative Finishing - Jan/Feb 2003 Awarded by Paint Pro Magazine

Elizabeth Warnock Prize for Decorative Painting Excellence 2000 National Symphony Orchestra Decorator Show House

Best of 1999 Decorative Finishing - Awarded by American Painting Contractor
TELEVISION COVERAGE
HGTV June 2005 - Dream Builders Segment, Featured Venetian Plaster Damask Designs, Mirror Polish Ceilings, Murals, Decorative Paint Finishes Strie & Frottage, Venetian Plaster Tuscan wall Design.

HGTV June 2003 - Interiors by Design Segment, featured Venetian Plaster Hydrangea Mural as originally prepared for 2000 NSO Decorator Show House, Washington DC.
THE MOVIES
CORCORAN GALLERY TOUR
Please be advised that all of the images on the Buon Fresco web site enjoy copyright protection and that United States Federal law provides severe penalties for copyright infringement. Reproduction, distribution, or transmission of the copyrighted materials on this site is strictly prohibited without the written permission of Buon Fresco, Inc.
Home | Designers, Architects & Contractors | Award Winning Work | Venetian Plaster Specialists | Gold Leafing & Stencil Work | Painted Effects | Murals | Trompe L'Oeil | Commissioned Art | Logo Design | Russian Art | Instruction | About Us | Contact Information
© 1997 - 2017 Buon Fresco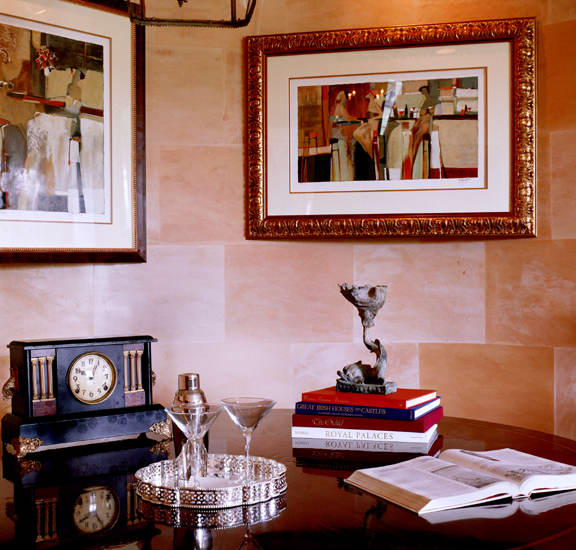 Buon Fresco is delighted to announce that our Italian Plaster design of Marble Blocks has [for the second time in the 3 NSO Show Houses that we have done] afforded us the prestigious honor of being awarded The Elizabeth Warnock Prize for Decorative Painting Excellence!
Our wall design is a very glassy, very beautiful southwestern clay colored Italian Plaster with one rounded rotunda style wall being finished in blocks of smooth as glass, marble appearing plaster. It's a winner!
More Views will be posted on this site soon, on our Venetian Plaster pages.